So you have a brand new, shiny WordPress site and you want to pull in your Twitter feed? And why wouldn't you. You invest so much time perfecting those 140 character broadcasts. There are several good plugins that will help you accomplish this, but we will cover that in a future blog post.
Before you can incorporate your Twitter feed into your WordPress site, you will need to create a Twitter Application. While this fancy language makes this seem very technical, it is actually pretty easy to do.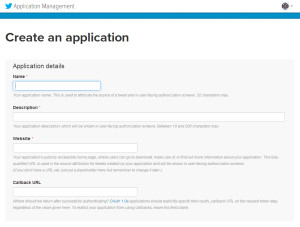 Create A Twitter Application
To get started, point your web browser to https://apps.twitter.com and sign in with your Twitter account.
Click the button that says "Create New App".
Complete the "Create an application" form.

Once the form is submitted, you will receive a confirmation screen with some information that you will use to pull your Twitter feed into your WordPress site.
In most cases, you will probably only need the Consumer Key, Consumer Secret, Access Token, and Access Secret. If you find that you need more of this information later, you will be able to login and access it. So what are all these fancy numbers? These API keys are used to access your Twitter information by third-party applications, such as the plugin you will be using to pull your Twitter feed into your WordPress site. It is important to keep this information confidential.
In the next post, I'll show you how to use this information with a WordPress plugin to pull your Twitter feed into your website. Stay tuned!