One of the great things about WordPress is that it's one of the best content management systems you can use for SEO right out of the box, and there are a lot of good plugins you can install to enhance your search engine optimization efforts. One very important consideration for your WordPress site is the correct use of permalinks. It is a well known fact that URLs are very important for SEO. Thankfully, WordPress has a built-in feature for changing your URL structure, also known as permalink structure.
The default permalinks in WordPress are actually horrible for SEO because they make no semantic sense. Take a look at these examples of default permalink structure:
Post Permalink: wordpressseo.com/?p=14
Page Permalink: wordpresseo.com/?page_id=14
Category Permalink: worpdressseo.com/?cat=14
Tag Permalink: wordpressseo.com/?tag=tag-name
Archive Permalink: wordpresseo.com/?m=201311
Do those links make any sense to you? Probably not. And they don't make any sense to Google, Yahoo, Bing, or other search engines either. Fortunately, this is easily corrected. The recommended permalink structure for good search engine optimization is:
"/%category%/%postname%/" or
"/%postname%/"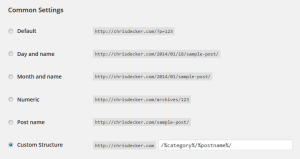 To make this change, go to Settings, Permalinks in your WordPress admin panel. Select Custom Structure and enter one of the selections above (see screenshot on the right). If you use "/%category%/%postname%/", your URLs will now look like this:
Post Permalink: wordpressseo.com/cat-name/post-name
Page Permalink: wordpressseo.com/page-name
Category Permalink: wordpressseo.com/cat-name
Tag Permalink: wordpressseo.com/tag-name
Archive Permalink: wordpressseo.com.com/2013/11 or example.com/2013
These are a lot easier for people and search engines to understand. For example, the permalink of this post is "http://chrisdecker.com/wordpress/improve-wordpress-search-engine-optimization-seo-with-good-permalink-structure/". This will help search engines better determine what your post or page is about. I generally tend to use one category per post on my blog, but if you like to use more than one category, you should use the "/%postname%/" permalink structure so that your links don't become messy and you don't confuse your readers.
What other ideas or recommendations do you have for optimizing your WordPress sites for search engines? Please leave your thoughts in the comment section below.